| | | |
| --- | --- | --- |
| | | |
The Web evolved originally through the old Arpanet system as a way for the US government and universities to communicate. Since the commercialization of the web the amount of information has increased tenfold but much of it is propaganda and advertising of some sort or another. In order to further the original purpose of the web, and to flash a light in the darkness of ignorance I have included links to various types of science bases web sites.
"Dinosaurs reigned for more than 100 million years and died through no fault of their own; Homo sapiens is nowhere near a million years old, and has limited prospects entirely self-imposed, for extended geological longevity."
--Stephen Jay Gould
Anthropology (Cultural & Physical) Links


| | |
| --- | --- |
| Astronomy & Space Links | |
Earth & Sky
Daily science radio series & accompanying web site
Star Date Radio Show Can be heard on various public radio stations throughout the country as well as some AM stations or listen to it on their webpage
NASA Home Page
Biology/ Life Science Links
General Science Links
Math Links
Museum Links
Physics Links
Science Magazine Links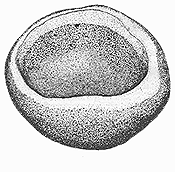 Books
Of course there are thousands of books out there worth recommending. Here are a few that I find interesting and informative:

Chief Marin: Leader, Rebel, and Legend
by Betty Goerke

my first Anthro. professor. She cites me in the book! I have ONE drawing of a large projectile point!

The Human Evolution Coloring Book
by Adrienne Zihlman (Author) Mostly focused on the physical parts of humans and other apes, not so much the behavior.


David Brin has written a science fiction short story book called Otherness, there is an interesting essay called, "Science versus Magic," that I recommend.


Quotes & Other Interesting Information
"The resistance to a new idea is increased by the square of its importance."
--Bertrand Russell

"It has become appallingly obvious that our technology has exceeded our humanity."
--Albert Einstein (03/14/1879-1955)

The more you know, the more you know you don't know.
For those of you who don't get it: The more you learn, the more you realize there is so much more to learn. :)
vvv