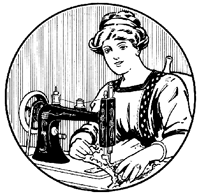 Some of my Quilts. The pictures aren't very good and don't do the blankets justice.
Batik Butterfly Quilt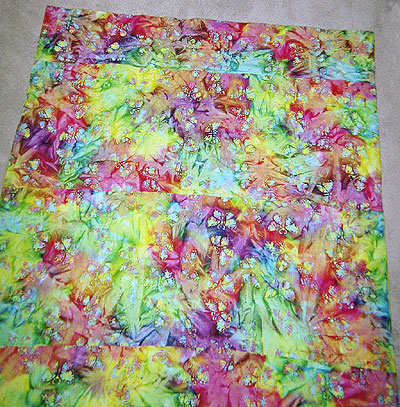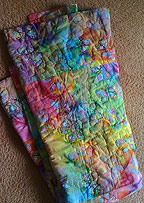 Batik Fabric sewn together to make a blanket (both sides are this fabric) with double batting inside. The quilting part is me "quilting" different color yarn around the butterflies. All the rainbow colors. I quilt a certain number of butterflies for each color depending on the size of the panel. For example I will quilt for 4 or 5 butterflies on one side of a panel then 4 or 5 butterflies on the other side using red thread that is normally used for stitching. So sometimes the butterflies overlap and sometimes the butterflies don't and on the other side there is no batik butterfly just a stitched one. Overall I think it looks really neat.
Batik Squares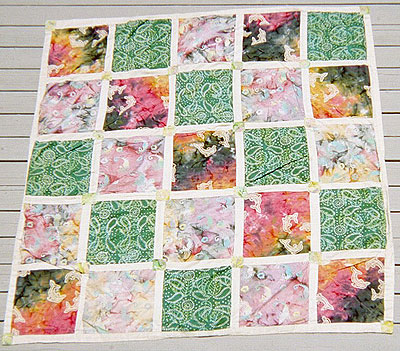 Batik fabric sewn together in squares. The quilting was rather simple and done with a machine on corners of quilt. Big X's or, if fabric was the fish I quilted around each fish using thick white thread. My second quilt ever. I only used one layer of batting and it was 100% cotton so it is a rather thin blanket. The white fabric is actually tan-ish natural cotton (can't remember the official term) and is used for the back of the quilt too.
Halloween Quilt

| | | | | |
| --- | --- | --- | --- | --- |
| Work in Progress | detail | front | Tie-dyed back | detail of back |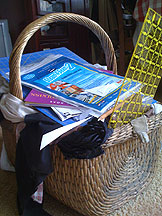 My first quilt ever. This is a great idea for parents who don't know what to do with all those T-shirts your child gets for a particular sport. In this case the sport is hockey. This was an ongoing blanket and has grown over the years. The secret is to turn each T-shirt (one side or both depending on image) into a square (mine end up being rectangles most of the time). Each square is quilted, batted and sewn separately. When you get enough squared to make a side you add it to the blanket. I also added patches and hockey related T-shirt images that didn't come from a tournament or playoffs.
Pinwheel Quilt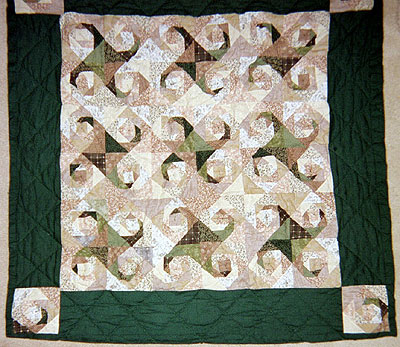 The first quilt where I actually used a pattern and used the correct size by using those plastic pieces available at fabric stores for cutting. The key is to have one of those round cutters. Wish I had know that when I completed my silk quilt! Bad picture but you get the idea. I used the sewing matching for everything and have learned that it is far easier, for me, and far more accurate if I sew by hand. (See below)
Sun & Stars Quilt
I did not use a pattern but came up with my own design. It is a Sun & Stars theme. It is 90% hand sewn and hand quilted. The blanket ended up being rather large after I had sewed all the pieces together. I did use the sewing machine to put the back of the quilt to the front plus a little bit with the octagons. I found that I could not line things up evenly with the sewing machine and that those parts that I attempted using a machine were 'off." So, back to hand sewing. Besides regular 'quilting' I quilted various sun and moon faces on the larger yellow blocks. Then I painted some of them with fabric paint.
| | | |
| --- | --- | --- |
| In the Beginning | Detail of the center | detail |
| detail | detail | |
| | On my bed. | |
Silk Quilt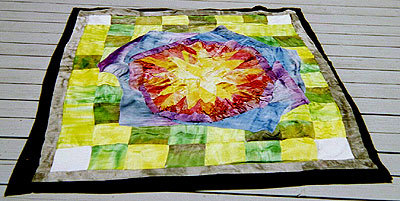 My third quilt. I didn't know about proper sizing for the triangles so the middle has a lot of extra fabric. If I could do this over it would look a lot 'cleaner,' except for the fact that my cat had dug her nails into the silk so much that the silk began to run. Don't use silk if you intend to actually use the blanket, or if you have cats.

I got scrap silk at Dharma Trading company and died the silk various colors. The died silk looks very cool. I then cut the middle shapes out and sort of winged it from there. It looks very nice in real life but for the sizing. It was a learning experience and I now understand the importance of correct shaping. I doubled the batting for this quilt as I learned after my batik quilt that some batting is just too thin. The back of this quilt is black cotton.
Baby Quilt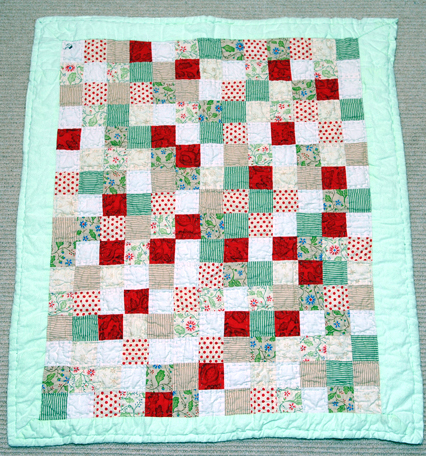 My first 'baby' quilt, and the first quilt I have made for someone else. Very simple squares placed randomly. The cloth I got from Beverly's in a pack plus I added some off-white. The back is flannel.
4th of July Quilt





Very easy quilt but I still managed to end up with things out of alignment, even using the sewing machine. So a few "rows" are off by a lot. It seems to me far easier to line things up when I sew by hand.


Detail

I tie-dyed the cloth for the back of this quilt red. I LOVE tie-dye and it looks very cool but, when I washed the blanket, things turned a shade of pink. It's a pinkish flag blanket.


Finished



with tie-dyed back


Pineapple Quilt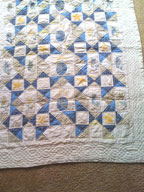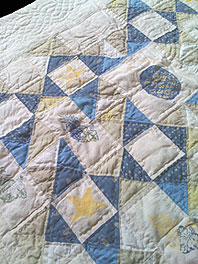 I love to go to Beverly's or Joanne's and buy the scrap fabric. And sometimes they have a set of fabric on sale that just looks too good to pass up. This quilt resulted from one of those fabric packs.
Fall Project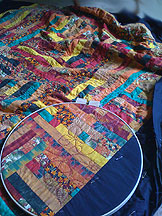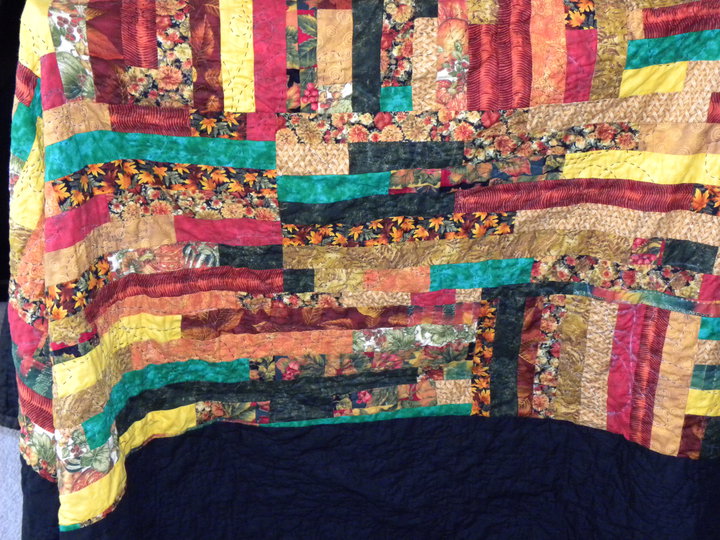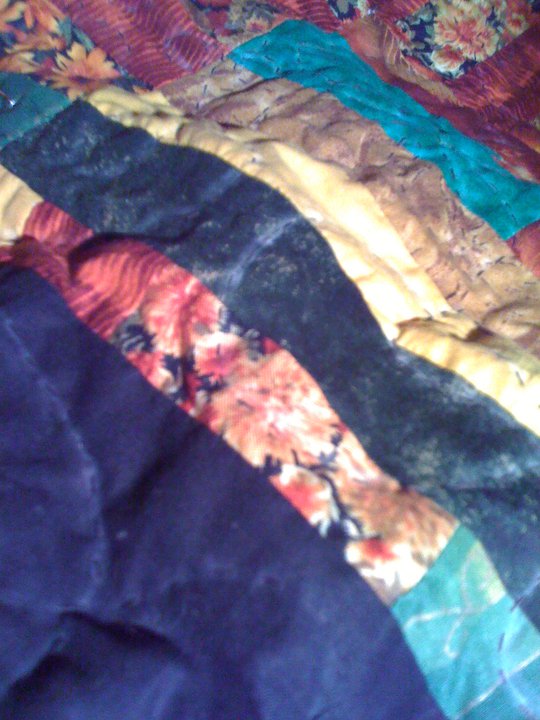 This is the last quilt I finished before I moved overseas. It took about two years because I worked on it off and on over that time. It has a fall theme.
Log Cabin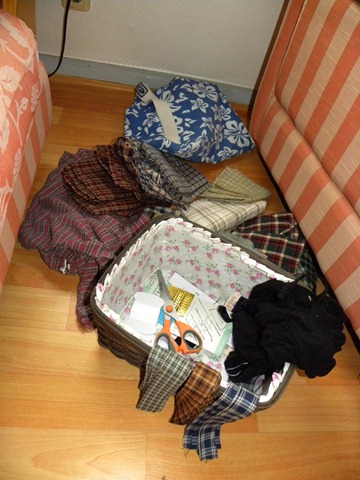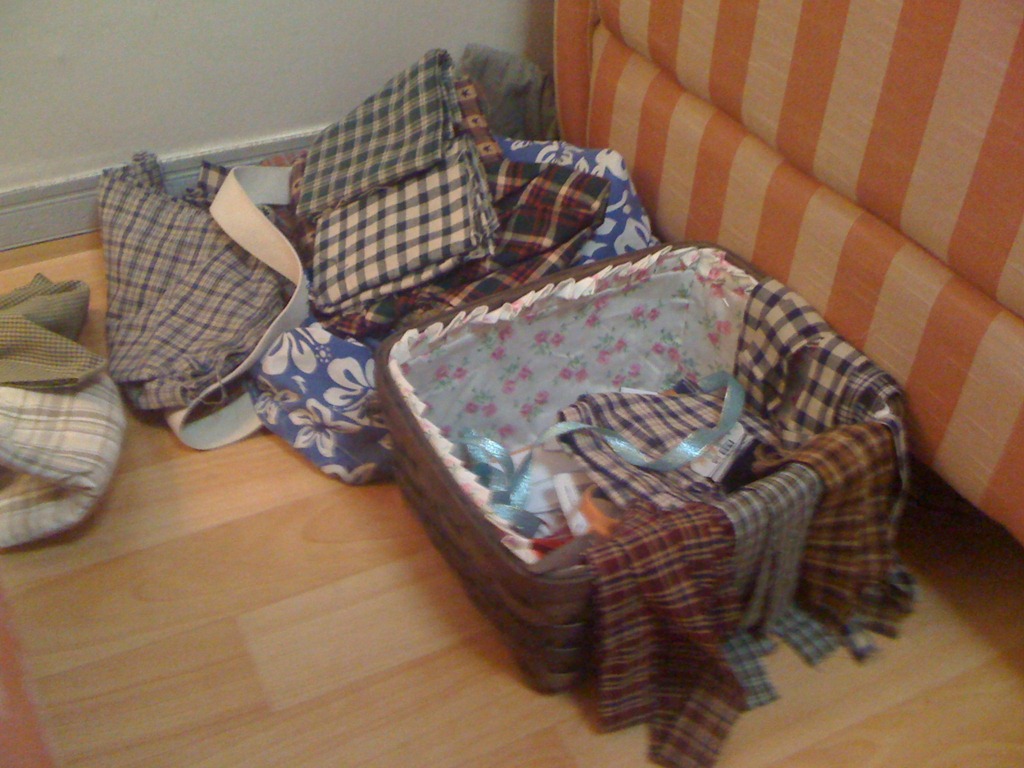 I began this quilt in South Korea. The first basket is the beginnings of my cutting strips for the log cabin pattern, and the second is a few months later. It took me two more countries to finally finish the quilt (and over 3 years). I didn't really sew in Libya and I sewed most of the rest of the quilt in Kazakhstan then I finished it up in the U.S. After all that time it was sad how small the thing was. I ended up putting it in storage to finish as a blanked one day... when I finally move back home to the U.S.

| | |
| --- | --- |
| | |
---
Here is some of my knitting. I have knitted two blankets but I don't have pictures of both. The fist piece I ever completed was one of my two blankets. Back then I didn't know about counting stitches, or the tendency to absentmindedly add stitches, as a beginner, so my blanket is wider at one end than the other.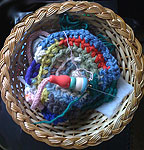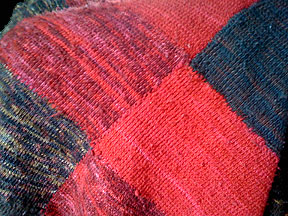 Detail of my 2nd blanket
A Knitters Supply Bag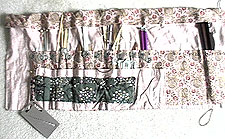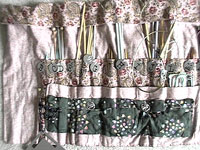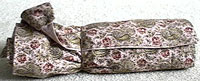 Very Good Idea! for those who have a lot of knitting 'stuff.' They sell these types of bags but they are rather expensive. I made pockets for the needles and labeled them with tin tags a, b, c, etc. that were actually made for scrapbooking. Below the knitting pocket is one long pocket and on that pocket is a smaller pocket (the batik fabric). I sewed and glued pink Velcro to the inside of each pocket as well as at the top of the bag (where you see the fold in the pictures) . The Velcro at the top holds the longer knitting needles in place. I roll up the bag and use a hair rubber band to keep it rolled up. I came up with this before I saw the same basic idea on Knitty Gritty.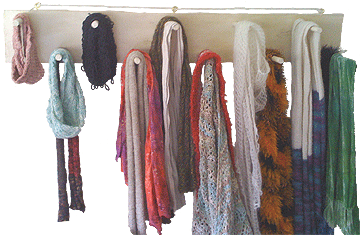 Scarves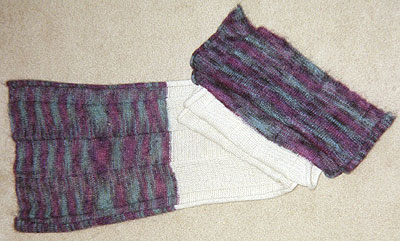 The first scarf f I ever finished. The pattern is knit a few, purl a few. I don't remember the exact numbers but for example:

Knit 10, Purl 10, knit 10, purl 10, knit 10
then you are done with the row and the next row is reversed
Purl 10, knit 10, purl 10, knit 10, purl 10.

White - two balls of yarn.
Colored - two balls of yarn, one on each end.

I made the middle first with a mohair type white yarn. The shape is wide enough for a shawl or long enough for a scarf so I bought two balls of yarn at $17 each ( mohair alpaca something) and added both ends. I used larger needles on rather thin yarn so the scarf has a lacy look about it.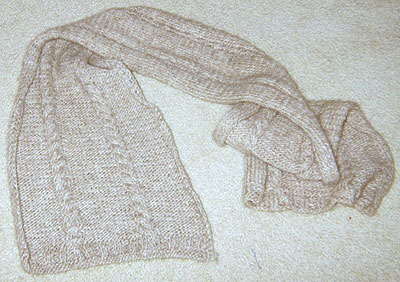 My second scarf. Can't remember the pattern exactly but the ends are:

Basic Rib Stitch:
Knit 2, purl 2, till end of row,
reverse for next row
Purl 2, knit 2
then after 7 or 8 rows I begin the braid in the middle.
Cable Stitch:
first row: purl 14, knit 6, purl 14, knit 6, purl 14
next row reverse: knit 14, purl 6, knit 14, purl 6 knit 14, etc.
after 5 rows of this I switch three using separate needles to create the braid. I can't explain how to do it very well, so look in a book, or go here.

I used four balls of wool for this scarf. Not very long for the amount of yarn .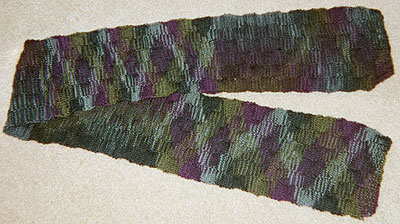 I used two balls of yarn divided again because the yarn was similar but not exact. I had originally bought one ball of yarn for my son to teach him how to knit. He wasn't into it and the yarn sat around for a year or two. I started knitting this scarf and found one ball wasn't enough so I bought another. Same brand but the colors had changed some. So I divided each ball into two and knitted in 4 parts, old ball, new ball, old ball, new ball.
The pattern:
The bottoms ends, which are similar to other scarves: (Rib Stitch) knit 2, purl 2, knit 2, purl 2 for as long as you want then reverse for next row (purl 2, knit 2, purl 2, knit 2 ,etc.) (Double ribbing)
The rest is knit 7, purl 7......for the width your are knitting then reverse the next row purl 7, knit 7
EXCEPT for the width ends. The very last stitch at each end has to be the opposite of what you are on. So if you just knitted 7 the last stitch is a purl. Then you are on the next row and you knit the first stitch and purl the next 7. This keeps the scarf from curling (at least with this acrylic yarn).
The scarf ends up looking like 'squares.' (The zigzag colors are because of the yarn.)
SF Giants Paraphernalia
(or Halloween)

Giants Scarf


Work in progress


Finished

Mostly cheap acrylic yarn from Beverly's




Giants Hat, Cotton





I made it with random stripe thicknesses to give the hat a zanier look.



Patagonia Nature Cotton from
www.araucaniayarns.com

Giants Blanket


Thick acrylic-wool combo
Cougar Scarf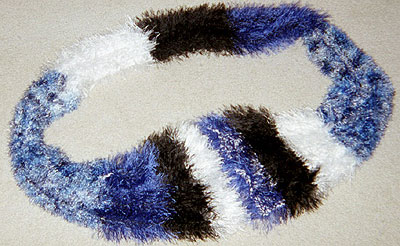 Fastest scarf I ever knitted. Took me about a week, just before hockey playoffs. These were the colors of my son's last ice hockey team. I made a pattern of 10 but it is hard to see:

After the bottom ends (same double ribbing)
knit 10, purl 10, knit 10, purl 10
next row
purl 10, knit 10, purl 10, knit 10,
repeat for as long as you want adding on different colors.

I measured the length of each color by putting it next to the last similar color, I did not count rows since it really didn't matter as the yarn is so fuzzy you wouldn't be able to tell that some colors are longer or shorter by a row or two.

It is a scarf although the picture makes it look like a circle. The ends are in the front and are just placed next to each other for the photograph. The ends are the three colors on each side, one side dark blue, black, white, other side white, black, dark blue.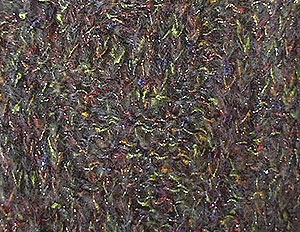 Detail of 1st scarf where I randomly knitted or pearled to make a 'crazy' scarf.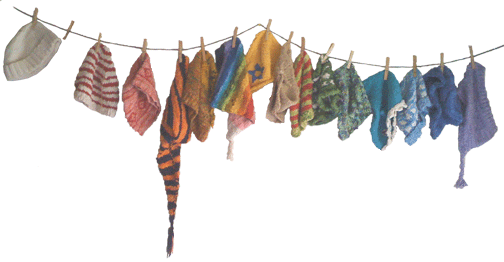 Some of My Hats

Patagonia Nature Cotton from
www.araucaniayarns.com

Patagonia Nature Cotton from
www.araucaniayarns.com

Patagonia Nature Cotton from
www.araucaniayarns.com

Wool with a bit of rabbit hair

I used a basic pattern on each hat

and altered as I knitted. This website

really helped me get started with my hats

Cotton Scarf
100% Organic Non-bleached cotton from Dharma.
Inca Cotton, "Spun in Peru"
Who would of thought it would be green?


Head band

Patagonia Nature Cotton from
www.araucaniayarns.com
Other Knitted Things
Hair Doily
| | | |
| --- | --- | --- |
| | | |
Not sure how to explain this but I knitted a "hair doily" like the ones my American Sikh friends wear in their hair. They bought theirs from who knows where, but I found that you can knit them by following certain hat patterns, and using sock yarn and size 1, 2 or even 3 needles.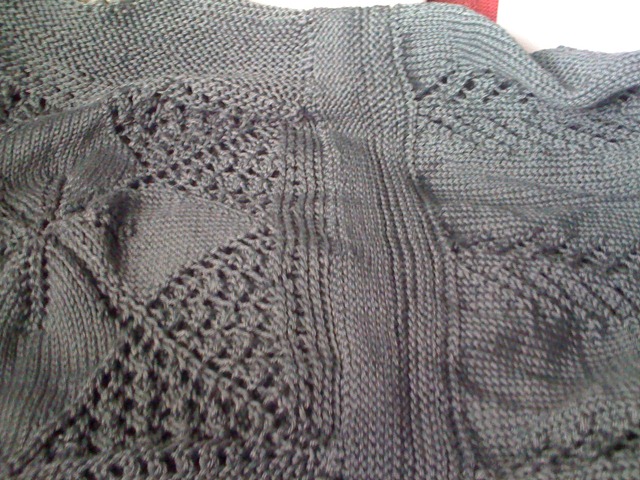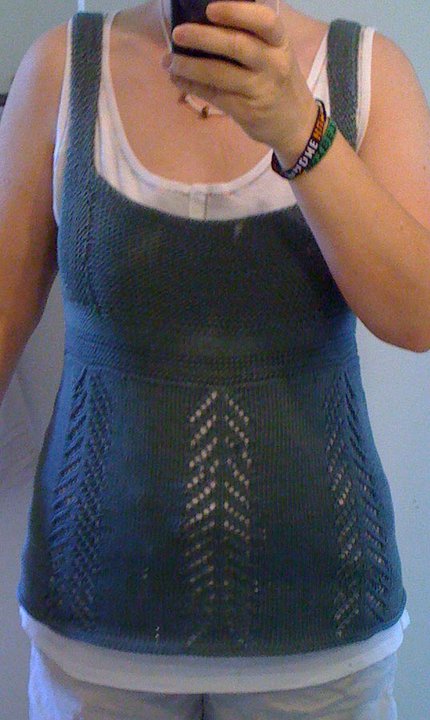 Part of the back of the sweater then the front of a sweater I made just before I moved overseas. I used a pattern.
Wristbands

Knitted wrist bands
Basic pattern came from here:
knitty.com
then I changed it a little.

Little bags

So easy to knit up.
I made these to hold speakers and earphones and the last to hold my external hard-drive. I followed a pattern for that one from a magazine, I think Spin Off.
Socks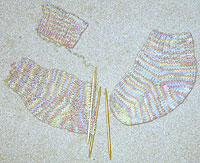 My first pair of socks. I knitted them completely once, found them way too big and took one apart and began knitting it again (above). But this one still looked bad, lots of mistakes and still too big so I did them over again. I got this pattern from the internet and didn't understand the heal part at all. I kind of made up my own heal but I am sure it is what you are supposed to do. Took me forever to find out what a "dropped stitch" is as none of my knitting books explained it very well nor the internet. It really helps to understand what one is, because it allows you to do so much more than knit simple squares!
| | | | |
| --- | --- | --- | --- |
| My first pair of knitted socks finally finished! | | | Just a tube really, no heel. |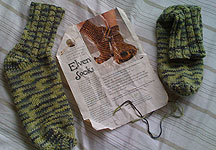 I have knitted tons of socks since the first shown above. Found there are several ways to make a heel! But I love the pattern for "Elven Socks" found in Faerie Magazine.
My Pillows.
A bit of painting on fabric a bit of needlepoint and simple sewing.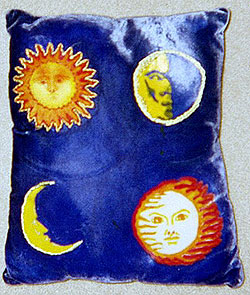 First I ironed on the images on the back of the fabric, then I used silk paint to paint the front of the fabric. It ran a bit because the fabric is a type of velvet. Then I stitched around the images using rather thick needlepoint yarn.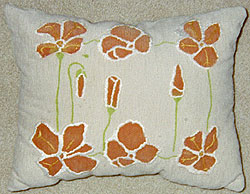 This pattern is similar to one I saw in an Arts & Crafts magazine ( Bungalow). My silk paint ran a bit so I stitched white around the flowers. Otherwise the flowers would be a big orange mess. Material is for furniture, kind of velvety with a rubber backing.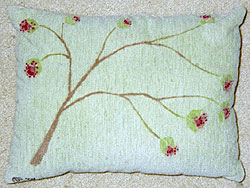 I made this design up. Painted a branch with little flowers. I stitched little 'dots' on the flowers. The red silk paint ran a little so the dots are a bit abstract. Same material as above.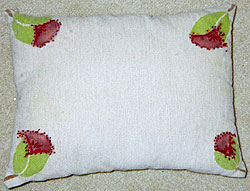 The back of the pillow to the left. Made up the pattern again. I was trying to go for an Arts & Crafts style. The red silk paint ran again thus the stitching with red needlepoint yarn.
---
So.......so so so
There are zillion of knitting and crafting links out there. I will put down some, hopefully they are the useful ones. Lots of knitters have BLOG websites with good pictures/patterns. Go to Google and type in knitting blogs.

Definitions of Sewing Terms - from a LOTR clothing website but good info.
Dharma Trading Company - One of the places I buy yarn. They also have a large selection of dies, and die-able stuff. They have various kinds of silk at good prices plus other folk craft stuff (weaving, needlework, spinning, etc.)
History of Clothing and Textiles - Wikipedia of course
Knitty.com - very nice magazine with really neat designs/ patterns. I LOVE this site!
Knitting at About.com - Good picture guide to various stitches
Knittinghelp.com- helpful website for knitters. Has interesting stuff and videos to go along with some of the patterns.
Knitty Gritty - TV show on DIY. It seems it's been cancelled because they did not renew the domain name. Has videos to watch, however.
The Online Quilt Block Pattern List - List of Quilt block names arranged alphabetically .
The Library of Congress - Library of Congress has all sorts of interesting things. Use a word search and you can get examples of all sorts of things. So search for the word 'quilt' and find documents, photo's etc. on the history of quilts in America.
Types of Fabric - from the Silk Org. in Britain. Useful info
Understanding Fabric - a good basic introduction. Includes info on yarns, woven fabrics, other fabrics, felt, etc. Has other good info too.

---